In recent years, keratin treatments have acquired a strong boom in beauty centers. Women with curly hair and strong frizz were able, for the first time, to see their hair straight and free of frizz. But the popularity of this type of treatment was also fraught with controversy and doubts due to the incorporation of harmful chemicals for health, such as formaldehyde.
In the following article, we want to shed light on keratin treatments, tell you what they consist of, and what types of keratin you can find most frequently in hairdressers.
Types of keratin
t should be clarified that keratin is a generic name and not all treatments that operate under this name are composed of keratin. Except for Brazilian keratin, keratin treatments do not straighten the hair, but they achieve an anti-frizz effect on the hair for the reasons mentioned above. There are many types of keratin, which are not proper treatments, but components used for them. These are the most common.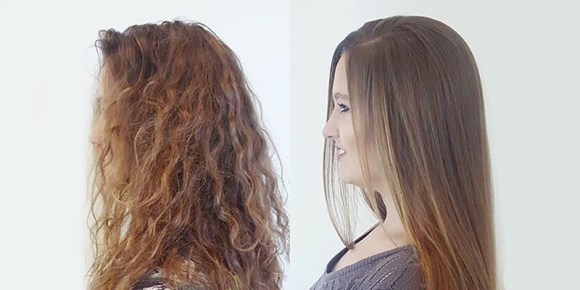 Keratin without formaldehyde
Formaldehyde-free keratin is a natural product that does not contain formaldehyde, so it guarantees results while maintaining hair health. Before undergoing any keratin treatment, make sure it is a product that does not contain formaldehyde.
Keratin with formaldehyde
Formaldehyde or formaldehyde is a toxic substance prohibited in cosmetic treatments in concentrations higher than 0.2%. When the boom in keratin treatments began, a large majority contained formaldehyde among its components.
It is indeed a very effective straightener, as it breaks cystine bridges and achieves a deep straightening of the hair. Still, continued exposure to this product can cause allergic reactions and long-term respiratory problems.
Hydrolyzed keratin
It is a type of keratin used in treatments that restructure the hair since it acts as a conditioner. It can regenerate the damage caused to the cuticle through hydration. It gives a shiny look to the hair. Its use is recommended on especially dry hair, with brittle and weak ends. It lasts between 3 and 4 months.
Chocolate keratin
Chocolate keratin is ideal for treating strong curls, as it adds weight to the hair and repairs it thanks to cocoa oil. Its natural antioxidants protect hair and give it shine.
Brazilian keratin straightening
Brazilian straightening is one of the best known and most effective since it eliminates 95% of the curl, protects the hair, and provides it with nutrition and shine. It can be considered one of the only keratin treatments that do straighten the hair. Its result offers a natural smooth with zero frizz and a duration of 3 to 5 months. Find out here what you need to do the Brazilian straightening at home.
Japanese keratin straightening
This straightening lasts for a few weeks, although it eliminates the curl completely. It is not a keratin treatment, but its method and composition are based on traditional keratin and, with it, soft, strong and smooth hair is achieved. It is one of the most controversial straighteners since many of them contain chemicals that tend to be aggressive with the hair to achieve the perfect straight result.
Alpha keratin
This type of keratin is the main base of all keratin treatments. One of its main components is cysteine, which serves to provide stiffness and resistance to the hair. Alpha keratin eliminates curl and gives hair a smooth appearance, offering a straightening effect that lasts for approximately 4 months.
Beta keratin
Beta keratin is used to make smoothing treatments with a softer effect since it hardly has a cysteine ​​composition. In spider webs, it is found in nature, for example, and it can relax the curl and make it more manageable. However, it does not have the smoothing power of other treatments.
Cauterization
It involves applying a pure keratin shock to the hair to increase its thickness and reduce breakage. It is usually applied as a complement to increase the duration of the Brazilian straightening.
What is keratin for hair?
Keratin, popularly known as keratin, is a type of natural protein found in hair, skin, and nails. The hair's outermost layer, the cuticle, is composed, among other components, of keratin. This is responsible for protecting it and giving a uniform and shiny appearance to the hair.
Misuse of the brush, aggressive chemical treatments or solar radiation can cause swelling and opening of the cuticle, resulting in fragile, brittle and lifeless hair.
Keratin treatments are shown to solve this problem because they condition and seal the cuticle, thus repairing the hair. Keratin does not straighten hair but deeply hydrates it to eliminate frizz, relax curls, and add shine without causing damage to the hair's internal structure. This is what achieves that popular straightening effect.
How to choose keratin?
If you have been considering the idea of ​​having a keratin treatment for some time but doubts hold you back, here are some tips that you can take into account when choosing a keratin bath.
Go to a professional center that offers you guarantees regarding the application and quality of the products.
Check that the products used do not contain formaldehyde and, if they do, they do not exceed the maximum of 0.2% established by European legislation.
Suppose you have curly hair, wavy with frizz or damaged by the use of highlights or perms. In that case, we recommend applying a Brazilian keratin treatment or Brazilian straightening as it straightens the hair without damaging it and eliminates 100% frizz.
The ideal is to choose a cauterization or keratin shock treatment if you have fine and brittle hair.
After the treatment, you should use sulfate-free shampoos and conditioners to maintain the smoothness achieved for longer.